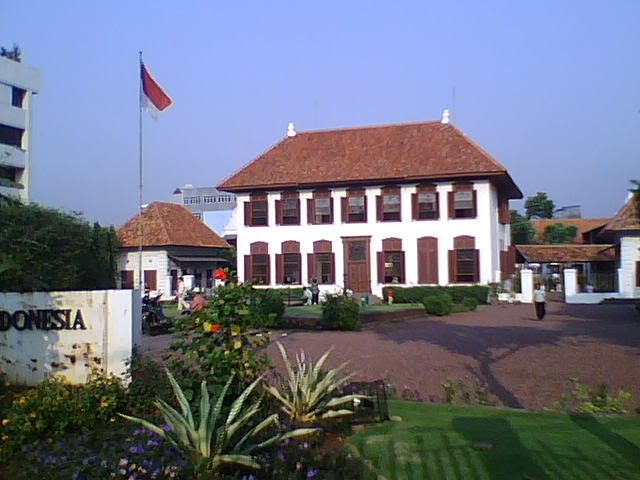 This is Arsip National Indonesia Building. Placed at Jalan Gajah Mada. Arsip meaningful archive. In this building often organized wedding party. This is a historis building. So, protected by goverment.The buildings around this place continue changed become modern building.Because this area that close by with the centre of old town Jakarta. Sometimes owner of the old building overthrow they house or store caused by just for change it become new building. Also caused by their kind of busines not suitable again with the old building. Other reason caused by the building collapse because the building had too old.
In left side of this building found Bank Central Asia, BCA complete with ATM and in right side found Gramedia Gajah Mada Book Store. In cross by street Padang Restaurant, Saribundo and Garuda, Kentucky Fried Chiken KFC, Superindo Swalayan, etc. Hayam Wuruk Buìlding and Hayam Wuruk Plaza.
Placed between Mangga Besar and Sawah Besar shelter of Blok M - Kota busway corridor. This Archive building first was house of goverment at Dutch colonialization period. Where first not part of city. The city area only in now said Old Town or also said Old Batavia. Jakarta ever known as Batavia, Sunda Kelapa and Jayakarta and finally until now known Jakarta. There is the long story of Jakarta City. So when The Archive Building constructed, this area may be still village that distance from old town about 4 kilometers. May be as governor that boring live in city, sometimes he go to village to got fresh. Like this time Jakarta inhabitat go to Puncak Bogor. May be caused by this building that so artistic often used to wedding party. Moreover have large yard for parking. This place only 15 minutes by busway from Harmoni or from Beos, Kota rail station. If not by bus way maybe longer. This placed also passed by M12 public transport Kota - Senen route and 08 Kota - Tanah Abang route.