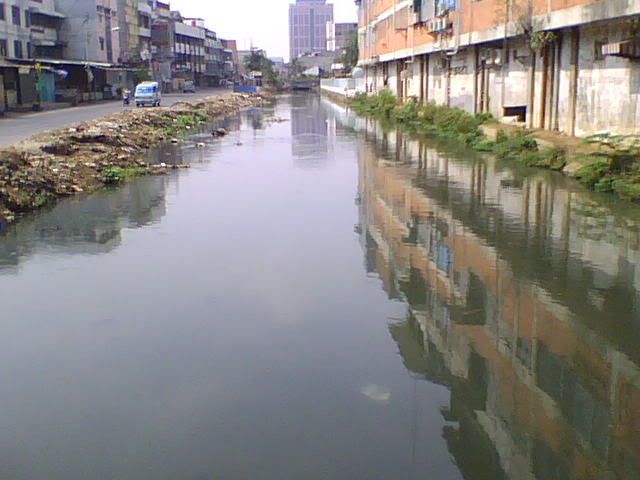 This river is Ciliwung River that said Kali Ciliwung. Exactly in back of Glodok Shopping Center. It seems like so lonely but actually at the left right the situation so busy. A shopping center that so dynamic. From picture Glodok Shopping Center found in the right side and the street in the left side is Jalan Mangga Besar 1. Picture captured from bridge that connect Jalan Mangga Besar 1 and Glodok Shopping Center, that always said : Glodok.
Glodok is well known for long time. A place that found of stores in row and plaza. Harco Glodok, HWI Lindeteves, Glodok Plaza, Pinangsia Plaza and across by street found Glodok Jaya where connected by bridge that also found of stores. The stores in Glodok service tools, equipment machinery, electronic, VCD, DVD, mp3, cable, sound system, karaoke, Marching, Conference system, Musical instrumental and many others. If we enter to Glodok Plaza found fitness sport and health equipment. TV plasma, sound system, many kinds of camera, food court. CCTV, electrical for home, Audio centre.
If we move to the next mall namely Pinangsia Plaza found Play Station, Computer centre and spare part include computer software. The next, Harco Glodok found more electronics. Too many kind.
Glodok located in meeting point of streets : Jalan Gajah Mada - Hayam Wuruk and Jalan Pintu Besar Selatan. The Glodok busway shelter found in front of Glodok. This shelter is the first stop if we go from Kota Station. This place found in Blok M - Kota busway corridor.