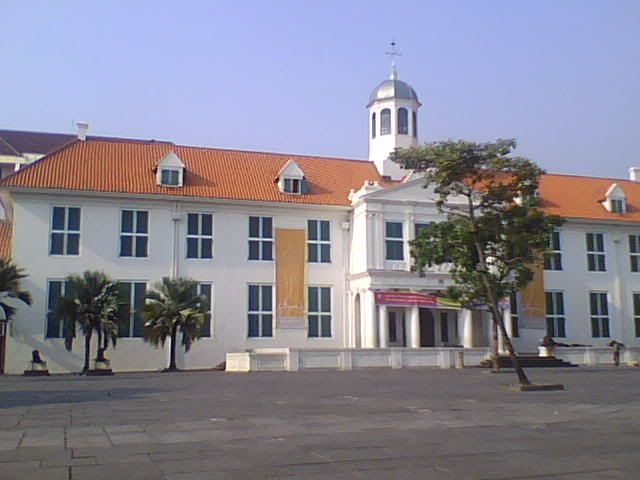 This is Jakarta History Museum. Located in Old Town exactly at Jalan Taman Fatahillah 1. The building appear Dutch architectural caused by the building founded in Dutch Government time. In front of lobby still found banner 'GOUVERNEURSKANTOOR'. I just guess meaning of the words in Dutch Language. I felt so closed by with 2 words in Indonesia 'Gubernur' and 'kantor'. In English 'gubernur' is governor and 'kantor' is office. So, maybe the word 'kantor' that come from Dutch Language where many of Indonesian people don't know but they always use the word everyday. Dutch colonize Indonesia for 350 years.
I enter in to the museum, and first I red word 'Balai Kota', where the meaningful about : Jakarta Mayor Office that constructed in January 1707. By chance, going on exhibition in back room. From the exhibition I got information about downtown. An area around Kali Besar, Sunda Kelapa Seaport, now known as Pasar Ikan, Kampung Cina and Glodok known as Oud Batavia.
In other room found information about Jakarta long time ago. Like Portuguese Cultural Influence. Keroncong Tugu music. Historical Place, Kampung Tugu, The portuguese churches, The 'si Jagur' canon. The Portuguese Nau Redonda and The arrival Portuguese Merchants. In next room found route of local comodities. The Kings of Sunda and The Sunda Kingdom. Kingdom stretched from the strait in the west to westren part of central java. The Sunda Kalapa port situated at mouth of the Ciliwung River now known as Jakarta. Continue , there few statue. The Siwa statue, Rajarsi, Wisnu, Ganesa, Durga Kali.