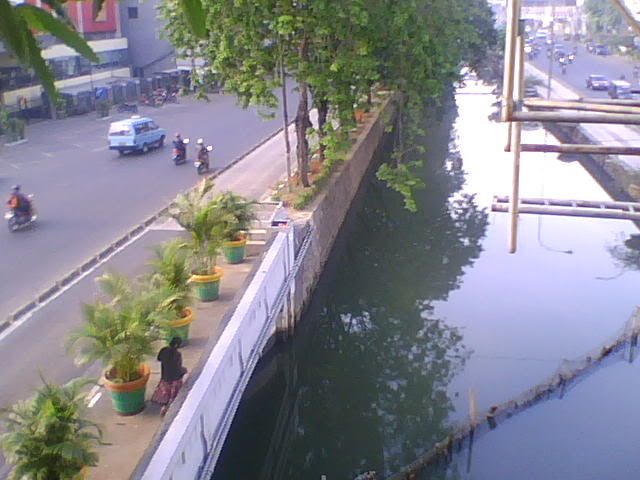 This is water of Ciliwung River captured in June 2008 in the morning from foot bridge on 6 08' 49.98" S, 106 48' 58.10" E google earth position face to south. Placed between Jayakarta Hotel and Lindeteves Trade Centre, Jalan Hayam Wuruk.
In the night we will see people that live around this place fishing here. That's means still life in the water of Ciliwung River although the river flow pass the big city, Jakarta.
Only a few kilometer from this place the river empty to sea. The picture exact between to street are jalan Hayam Wuruk and Jalan Gajah Mada.
At work time, noise of shopping centre Glodok will we felt because about to arrive there from Harmoni direction. Around this place will find important place like Jayakarta Tower, Starcity apartment, BII (Bank Internasional Indonesia) building, Lindeteves Trade Centre, etc.
I very enjoy with this place beside thinks above. Because very wonderful to get along with people in this area consists of Betawi, Chinese, Java, Sunda and many others. In the night besides the restaurant we will find sale in along of the street with low cheap food. Get this place. So easy by Transjakarta Busway. Just find Corridor I and you'll find this place between Glodok and Olimo Shelter.